The problem: vitamin A deficiency
According to the World Health Organization (WHO), vitamin A deficiency (VAD) is the leading cause of preventable blindness in children, and increases the risk of disease and death from severe infections. It also contributes to other severe health issues, including stunting and anemia. VAD is common in poor regions around the world — particularly in Africa and Southeast Asia — as a result of diets low in vitamin A-rich foods. [1]
Oral vitamin A supplementation can prevent child blindness and reduce mortality by 12–24% and only costs US$1.23 per supplement.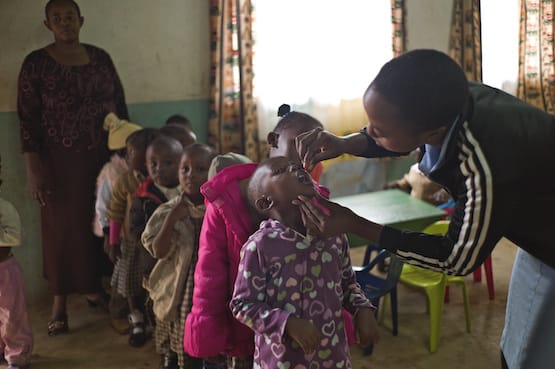 The solution: oral vitamin A supplementation — also known as VAS
Oral vitamin A supplementation is "the most widely practiced approach to addressing VAD in most high-risk countries." It involves providing children ages 6 months to 5 years with high-dose vitamin A supplements two or three times a year. WHO claims this type of supplementation can prevent blindness and reduce mortality for children in this age range by 12–24% and is extremely cost-effective: only about US$1.23 per supplement. [2] [3]
How Helen Keller International's Vitamin A Supplementation programs work
According to WHO, almost 50% of children in Africa and South Asia are vitamin A deficient — that's nearly 180 million children. [4] An estimated 100,000 children die each year from VAD-related causes. [5]
Helen Keller International (HKI) is a longtime leader in combating VAD and its life-threatening effects with successful VAS programs across the globe. In close partnership with national governments, local organizations, and international partners, HKI helps facilitate mass vitamin A supplements to children who need it. In many countries, HKI is the lead NGO (non-governmental organization) partner responsible for supporting VAS programs.
An estimated 100,000 children die each year from VAD-related causes.
HKI's VAS programs deliver nutritional supplements to children under 5 in a variety of ways, including the use of mass campaigns (such as National Immunization Days and Child Health Days) designed to integrate vitamin A supplementation into broader health campaigns that address multiple public health issues simultaneously.