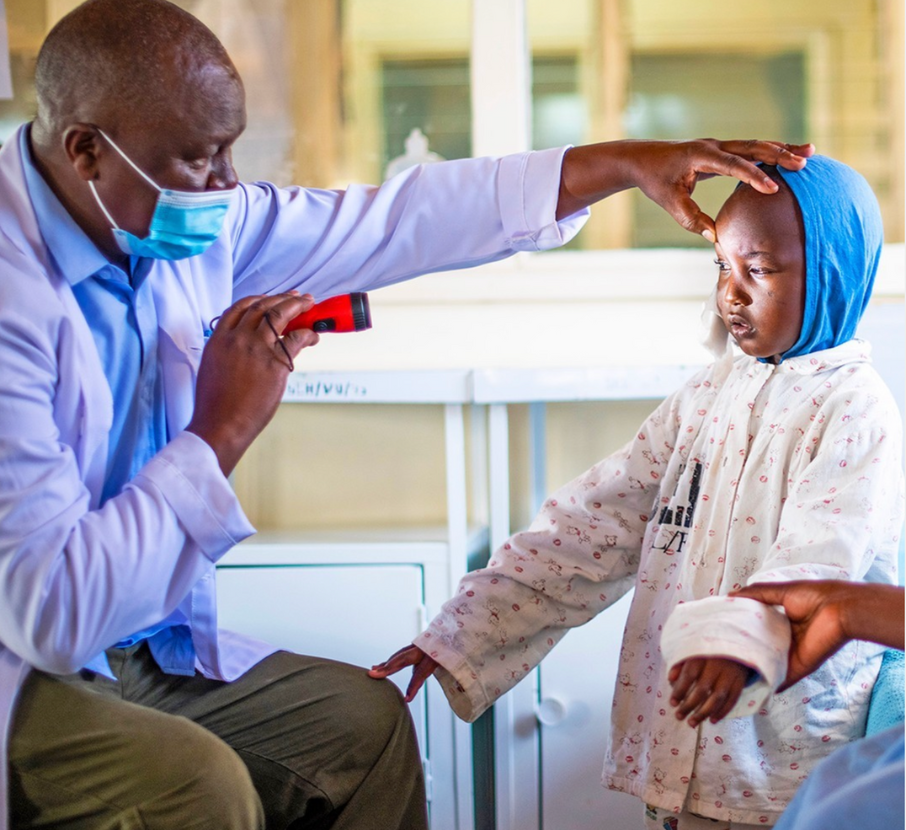 < Cause Funds
Transform Lives Fund
Please select your country & currency. Donations are tax-deductible in the country selected.
Living Goods
This fund is designed for people who want their donations to have a transformational impact upon the lives of recipients. Charities in this fund target preventable blindness, chronic malnutrition that leads to permanent cognitive and physical disability and inadequate access to health care. Transforming a life is an amazing gift for both the recipient and the donor!
Fistula Foundation
Fund Objective
There are numerous types of effective interventions that transform the lives of people living in extreme poverty. Our "transform lives" fund addresses three of them:  inadequate access or knowledge of health services; chronic malnutrition; and sight impairment or blindness.
Billions of people worldwide are at risk of contracting a life-threatening disease because they don't have access to health services or are unaware of safe health practices. Read more about

Improving Health & Fighting Infectious Disease

.

Chronic malnutrition threatens the health and development of a third of the world's population, especially pregnant women and children. Read more:

End Hunger & Malnutrition

.

Nearly 90% of the one billion people affected with preventable or treatable blindness live in the developing world. When you donate to effective health advancing charities, you're helping to transform lives. Read more: Prevent Blindness & Restore Sight
Fund Recipients
Recipent
Amount
Description
Fistula Foundation is the global leader in treating obstetric fistula, a devastating childbirth injury that leaves women incontinent, humiliated and often shunned by their communities. In addition to covering direct surgery costs, Fistula Foundation also supports surgeon training, facilities equipment, grassroots community outreach and holistic post-surgery reintegration.
The Fred Hollows Foundation
The Fred Hollows Foundation, which envisions a world where no one is needlessly blind or vision-impaired, has restored sight to more than 2.5 million people. Their work includes supporting programs to deliver more than 200 million doses of antibiotics for trachoma, working with communities to improve their own eye health through life-changing surgeries and treatments, training doctors and health workers, and pushing for change at all levels.
Global Alliance for Improved Nutrition
Global Alliance for Improved Nutrition's (GAIN's) mission is to increase the consumption of nutritious foods among vulnerable populations, especially women, girls, and children. They work to strengthen food systems—particularly salt iodization—by building partnerships between governments, the private sector, and communities to design and implement effective and sustainable nutrition programs.
The Iodine Global Network is the leading global organization supporting the elimination of iodine deficiency, the most common cause of brain damage in newborns. IGN supports healthy iodine nutrition in virtually every country of the world through a safe, effective, and affordable solution: iodized salt.
Sanku - Project Healthy Children's mission is to provide children everywhere with the simple, inexpensive, basic nutritional support they require to survive and thrive. Sanku - PHC focuses on achieving wide micronutrient coverage for at-risk communities in Africa and beyond.
Seva is a global nonprofit eye care organization whose mission is to transform lives and strengthen communities by restoring sight and preventing blindness. Seva works with underserved communities in more than 20 countries across Asia, Africa, and the Americas.
Currently, funds raised will be evenly distributed among charity recipients.
Our Giving Strategy
Our charity evaluation framework explains why and how our team identifies and evaluates recommended charities. Our framework seeks to be:
Focused

: We focus on problems that are

important, tractable, and neglected

amongst people living in extreme poverty.

Adaptive

: We consider a

wide range of solutions

and organizations with

diverse strategies

to achieve impact.

Practical

: We identify the most

cost-effective

charities, and encourage the

greatest number of people

to donate.

Data-driven

: We draw on

the best possible evidence

available to estimate the impact of each charity.
The Transform Lives Fund serves to advance life-changing interventions to improve lives substantially, including:  
Repairing obstetric fistula, a devastating childbirth injury often caused by inadequate access to proper medical care or contraception, that leaves women with chronic pain, incontinence, and often shunned by their communities.1
Supporting nutrient fortification, including iodine and micronutrients2, to prevent intellectual and developmental impairment from deficiencies

. 

R

estoring sight by identifying and treating vision impairment—including blindness—through accessible eye care, operations, treatments, and medications.3
---
1Fistula Foundation
2Global Alliance for Improved Nutrition (iodine), Iodine Global Network (iodine), Sanku (micronutrients in flour)
3The Fred Hollows Foundation, Seva
Fund Managers
Our research and evaluation team works to recommend high impact investments. Contact us if you would like to know more.
Anna Demant

– Advisor, Research and Evaluation

Bilal Siddiqi

– Advisor, Research and Evaluation

Matias Nestore

– Associate, Research and Evaluation

Katie Stanford

– Research & Business Intelligence Manager