The problem: a shortage of frontline health workers and inadequate distribution of health products and knowledge
Half of the world lacks access to essential health care. [1] Many health care systems — particularly in developing countries — are chronically under-funded, under-stocked, and understaffed. Let's look at some of the numbers.
On average, there are 2.3 health workers per 1,000 people in Africa, compared to 24:1,000 in the United States. [2] Further, more than 24% of the global burden of disease falls on people living in African countries, where only 3% of the world's health workers operate with less than 1% of the world's financial resources. Sub-Saharan Africa in particular makes up only about 13% of the world's population, yet suffers an estimated 66% of global maternal deaths, 41% of global stillbirths, and 40% of global newborn deaths. [3]
More than 24% of the global burden of disease falls on people living in African countries, where only 3% of the world's health workers operate with less than 1% of the world's financial resources.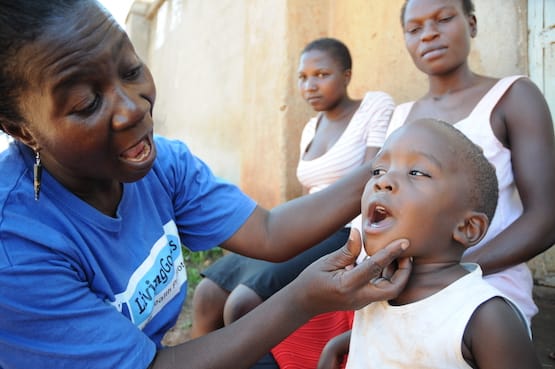 Stock-out rates (instances where an item or medicine is out of stock and unavailable) for critical medicines at public health facilities routinely exceed 50%, and poorly trained, poorly monitored health outlets are standard. [4] These issues increase in the hardest-to-reach rural communities where need is often greatest. In developing regions, more than 45 million women per year receive either inadequate antenatal care or none at all, and more than 30 million women deliver their babies outside of a healthcare facility.
The solution: community health workers
Supporting community health workers (CHWs) to provide reliable and affordable health care – along with essential medicines and products to the doorsteps of millions – saves and improves lives.
How Living Goods works
Living Goods aims to transform the way health care is delivered by addressing two fundamental barriers in sub-Saharan Africa: the significant shortage of frontline health workers and the inadequate distribution of health products and knowledge.
Living Goods helps governments strengthen and professionalize their community health systems. They recruit, train, equip, and manage government-recognized networks of local CHWs who go door to door within their neighborhoods, providing health education, diagnoses, medicines, and health products that save and improve lives. CHWs focus on high-impact areas where they make the biggest difference at a low cost, including pregnancy and newborn care, malaria, pneumonia, diarrhea, nutrition, immunization, and family planning.
Living Goods-supported CHWs are equipped with a powerful, diagnostic mobile application, the SmartHealthTM app, that Living Goods co-developed with technology partner Medic Mobile. It allows CHWs to register, track, and follow up with patients, ensuring data-driven performance management, as well as real-time data collection. Clients can also receive messages on their mobile phones with care reminders.
"Community-level interventions are cost-effective even with delivery costs factored in, especially when several conditions are met (including strong supervision of community-level workers and integration of workers into teams supported by the larger health system)."  
— World Health Organization
CHWs take clients through the app's diagnosis workflow free of charge. During the COVID-19 pandemic, CHWs provide clients with essential medicines and health items for free, including birth control pills, Sayana Press injectable contraceptive and malaria medications. Living Goods manages the supply chain to help ensure medicines are always in stock, whether through government or Living Goods-managed supply chains.
Living Goods combines best practices from public health with business acumen and technology from the private sector to ensure effective operations. They believe in four essential components to strengthen community health programs:
CHWs and supervisors are digitally enabled to collect data, improve quality of care, and monitor performance with digital tools
CHWs are equipped with the skills, tools and supplies they need to their job well
CHWs are supervised by dedicated personnel whom they meet with regularly
CHWs are compensated through performance-based incentives
Living Goods also advocates at the national level to strengthen primary health care (PHC) systems, striving to ensure all children and their families are able to access lifesaving care when and where they need it.
Living Goods' solution also builds government capacity to better manage, strengthen, and own these health systems themselves, laying the groundwork for longer-term impact and sustainability. They provide implementation support that enables government to sustainably lead community health programs.