We all know the feeling: It's ten days until Christmas and there's that one aunt, that one friend you haven't yet found a present for. Maybe you kept looking for the perfect gift. Maybe the person is one of those people who are notoriously hard to buy for. Or maybe you're a last-minute person and you're still urgently looking for presents for just about everybody! Whatever your situation is, you need something good, and you need it fast. Could a charity gift be the right option for you?
I myself have asked for and received donations instead of presents before but have never given them, so I was curious to hear about people's experiences in receiving a charity gift. A totally unrepresentative survey of my friends and fellow bloggers revealed that many of them have either received or given charity gifts before, usually with great success.
So let's take a closer look at the advantages as well as how to deal with potential issues of giving charity gifts.
Here's why they're a great idea …
You and your recipient will be improving the lives of people in need instead of participating in the over-the-top consumerism of the holidays.
It's quick and easy: All you have to do is click a button, and the organisation you've

Photo Credit: Oxfam

chosen will send a card or – ideal if you're pressed for time – an e-card to the recipient.

If the recipient is generally hard to buy for, a charity gift is a great way of making sure they're not left out without getting them something they neither want nor need.
A charity gift can make the recipient feel good about themselves because they've helped someone out instead of having to find room for yet another thing in their overcrowded lives.
For many people, it's a novel and unusual idea, and the gift card – often featuring lovely motifs – will continue to remind the recipient of the good their gift is doing.
… and here's how to make them work
Despite their many advantages, some people may be worried about giving charity gifts because they're not sure how the recipient will react. So let's take a look at some of the options that are out there and see whether there are ways to navigate around some of the potential issues.
One of the most important questions will probably be:
Will the recipient be open to the idea of a charity gift?
There's often a lot of tradition involved in how people celebrate the holidays – or indeed whether they celebrate them at all. There may be a tradition of handicrafts in your family, or of the holiday season being the one time a year where everyone gets a really big gift, or there may be a history of charitable giving already.
Photo Credit: Laura Gamse
It's easy if the person has already asked for donations instead of presents before – in that case, you know your gift will be appreciated and you'll both be happy your gift helped out someone in need.
But even if they haven't, consider things like: Has the person you're buying for at some stage complained about having too much stuff? Are they open to new ideas and/or to charitable giving in general? Have you ever seen the person get upset about what a waste useless or unwanted gifts are?
If so, you've probably got the right recipient for a charity gift.
However, even if you're not quite sure about the answers to the above questions, there are ways to improve your chances that a charity gift will be received in the spirit in which you bought it.
Choose a charity gift that is particularly suited to the recipient
Some of us place great value on choosing good-fitting gifts for our friends – why not do the same for a charity gift and look for something that has special meaning for your recipient?
For example, if someone is into gardening, Oxfam has a Veggie Garden gift as well as seeds you can buy. Incidentally, these are also great options if you're worried about giving animals or are buying for a vegan.
Photo Credit: Oxfam
If the person loves animals, an animal "adoption" at an animal sanctuary or animal hospital (such as the Koala Hospital in Port Macquarie*) might be a great idea. In Australia, Edgar's Mission*, a non-profit sanctuary for rescued farm animals, has a "Best Buddy" program where you can choose which of their animals you'd like to sponsor. The World Wildlife Fund* also runs an adoption programme with a range of species to choose from, and many other sanctuaries and rescue organisations worldwide have similar programmes.
Just make sure the adoption doesn't automatically roll over at the end of the year – you don't want to give someone a present that could become a financial burden!
Combine a charity gift with another gift
Whether your charity gift will be appreciated will also depend on the recipient's expectations. Sometimes, Christmas is one of the very few times a year that people receive something nice, or there's a "tradition" of giving something specific and the recipient has certain (justified) expectations. For example, my mother-in-law relies on me as her supplier of crime novels and looks forward to receiving them each year, so I wouldn't dream of just swapping them out for a charity gift because I know she would be disappointed.
Photo Credit: Rick Harrison, used under Creative Commons License
However, it's often possible to combine a charity gift with a "proper" gift. They could even both come from the same organisation, which makes it easier for you to organise. The Seva Foundation for example has "Gifts of Sight" where you can pay for cataract surgery for one person, and they also have calendars and beautiful T-Shirts, so you can combine a "real" gift with a charity gift. 
Accompany your gift with a personal card
If you're worried there may not be enough of a personal connection between the recipient and your gift, you can always buy a Christmas card – this is traditional in many countries anyway – and explain how and why you chose this particular charity gift. Some charities like Oxfam also have a range of really funny cards to go with your gift, such as "I wanted to get you something deep and meaningful. So I bought you a well."
Choose a gift that gets people actively involved
If you're afraid the person you're buying for will think receiving nothing but a card is boring, consider buying a charity gift that gets people invested or even requires a little active involvement.
For example, the Against Malaria Foundation has come up with a rather neat idea: If you buy mosquito nets as a gift, the recipient will receive an email with a link to a video that lets them see where "their" nets are being distributed.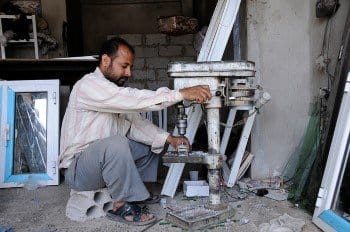 Photo Credit: World Bank Collection, used under Creative Commons License
You could also consider giving a Kiva* voucher. Kiva provides micro-loans for all sorts of purposes – starting a business, going to school, switching to clean energy – and the recipient of your gift can choose who they would like to support. In addition, the loan gets paid back into the recipient's account and he or she can then choose another person for the next loan. As a friend of mine explains, "It's an ongoing thing and I thought it was better because the recipient can be active in choosing where they want the money to go to rather than just getting a card saying 'Here, have a goat' and then doing nothing."
However, keep in mind that the recipient will have to create an account and get active – so you should be reasonably confident that he or she will see this as a fun and rewarding experience and not as an additional chore on a long to-do list!
What about kids?
The toughest question around charity gifts is probably whether they're suitable for kids. This depends on a range of factors, starting with age. A friend of mine began receiving charity gifts from her grandfather when she was about twelve and was always very happy about them, though it's important to note that he had cleared it with her ahead of time so there weren't any unwelcome surprises.
For kids, combining a charity gift with a "real" gift is a great option – for example, some of the World Wildlife Fund's adoption options include a soft toy of the chosen animal species. Some animal sanctuaries allow people to visit "their" animal, so if you don't live too far away, a special day out with auntie or uncle is a great idea!
If you'd like to introduce children to what a charity gift can mean to kids elsewhere in the world, a book like "Beatrice's Goat" can help them understand the impact of your gift for those in need. Based on true events, it tells the story of Beatrice, a Ugandan girl whose family receives a goat through Heifer International*. By selling the goat's milk, the family is able to make some extra money and send Beatrice to school.
Photo Credit: Mr. Fink's Finest Photos, used under Creative Commons License
Many children have a keen sense of social justice and are happy to invest time or even some of their precious pocket money to help other kids around the world. So another option could be to combine something the child is interested in with a gift to a charity that works in a similar area – for example, you could buy soccer equipment that goes with a gift to a charity such as Grassroot Soccer* that uses soccer to educate communities in South Africa about HIV.
Other ethical gift ideas
As a fast but more hands-on alternative to a voucher, a friend of mine usually buys fair-trade gifts for friends and family. Shops like the Oxfam Store have beautiful Christmas decorations, scarves, jewellery, home decor, bookends, wallets and much more. And of course fair-trade chocolates or fancy coffees etc. are available in many other shops as well.
Photo Credit: HOCW
If you have a bit more time until your present needs to actually reach the recipient, there are other options such as the beautiful homewares and jewelry from HOCW* or the Fistula Foundation's "Gifts That Heal," including scarves and iPhone cases.
I hope this post will help make your last-minute holiday shopping a breeze instead of the dreaded hassle! And if it really happens and one of your recipients isn't entirely ecstatic about not receiving a "proper" gift, share this little piece of wisdom of a friend of mine with them: "The best present no one has enough of is good karma." Have fun spreading good karma this holiday season!
---
[*] Please note that this isn't one of the charities recommended by The Life You Can Save, so if you are considering making a donation to them or buying a gift, do your own research on how your donation will be used.